20 Gauge Slugs Features and Benefits
1,580 fps velocity
Ideal for big game hunting
5-round box
20 gauge
2-3/4″ shell length
5/8 oz. lead slugs
20 Gauge Slugs Specifications
Gauge/bore: 20
Number of rounds: 5
Shell length (in.): 2-3/4
Species: Deer
Ounce shot: 5/8
Shot size: Rifled Slug
What's in the Box
Remington Slugger 20 Gauge Rifled Slugs
20 Gauge Slugs Product Description
Express Buckshot's combination of heavy cushioning behind the shot column and a granulated polymer buffering helps maintain pellet roundness for tight even patterns. Loaded with our Power-Piston one-piece wad for consistent patterns. Polymer buffering helps maintain pellet roundness for tight pattern. Great load for Hunting, Home Defense or Tactical Shooting.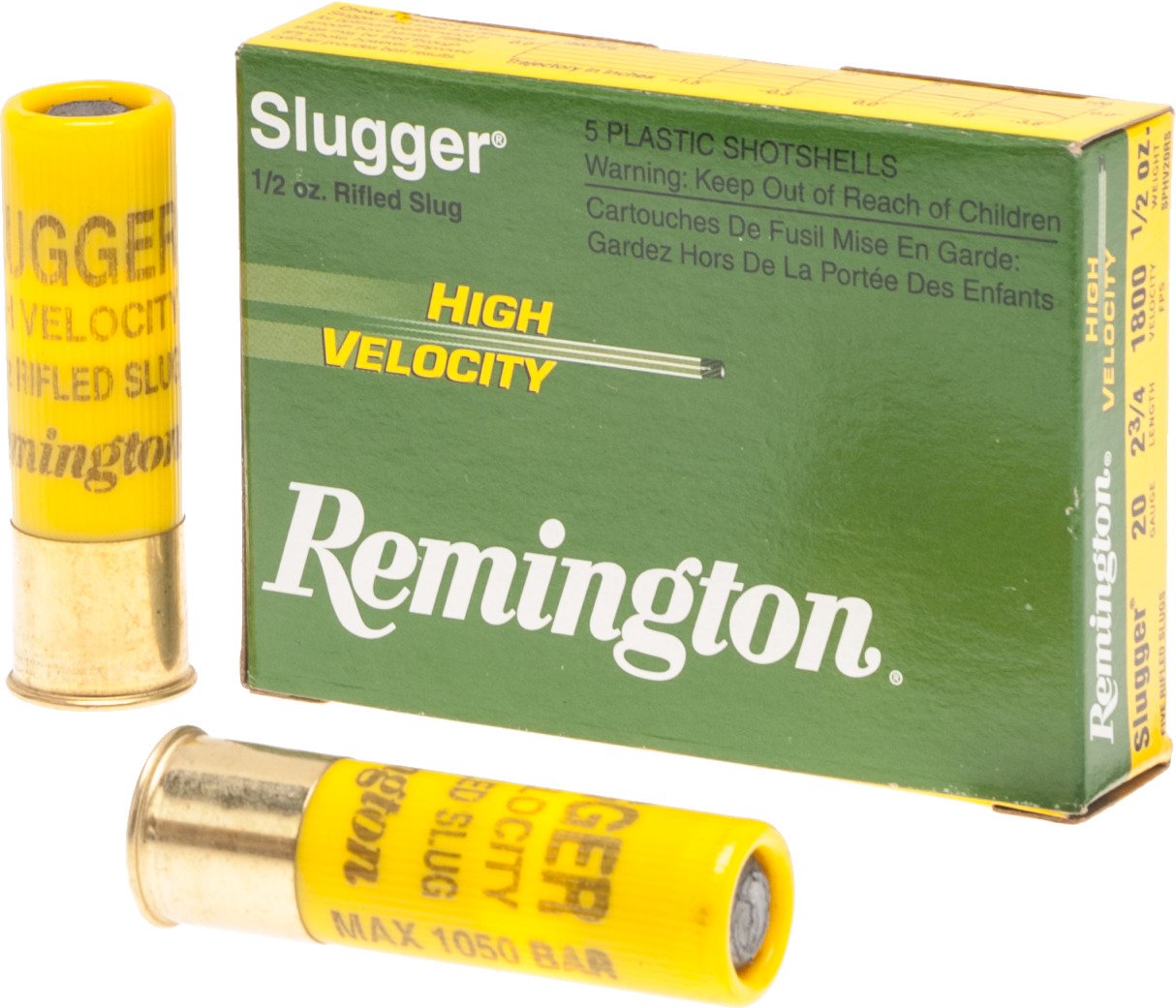 20 Gauge Slugs Ammo Specifications
Gauge: 20 Gauge
Bullet Length: 2 3/4″
Bullet Type: Shotshell Buckshot Load
Muzzle Velocity: 1220 fps
Ounces: 20 Pellets
Quantity: 5 Rounds per box
20 Gauge Slugs Important Product and Safety Information
You must be 18 or older to purchase Rifle or Shotgun Ammunition and 21 or older to purchase Handgun Ammunition. In ordering this product, you certify that you are of legal age and satisfy your jurisdiction's legal requirements to purchase this product.
For safety reasons, we do not accept returns on ammunition. Always make sure you use the correct ammunition for your specific firearm.
The sale or shipment of this product to residents of certain jurisdictions is prohibited. Check your local laws before ordering this product. Check your local laws for any other regulations.
We recommend the use of protective eyewear whenever using or near the use of this item.
Shop for 20 Gauge Slugs online at HOMETOWNGUNMART
If you're after a 20-gauge shotgun, you've come to the right place. GunBroker.com is the world's largest online auction site dedicated to firearms, hunting, shooting and accessories.
We aim to provide you with all the necessary information you need to make an informed 20-gauge shotgun purchase.
Explore the history, technical specifications, ballistics and background of 20-gauge shotgun, then browse the listings of our trusted sellers to make your purchase.
20 Gauge Slugs Basics
The 20-gauge shotgun is a smaller-caliber firearm with a smoothbore. The gun's cartridges are represented with a yellow hull.
The color is required because of the potential to dangers from obstructed conditions that could result from accidentally chambering a 20-gauge cartridge in front of a 12-gauge shell. The cartridge has a shoulder diameter of .673 inches (17.1 millimeters), extending to the base (.692 inches, 17.6mm) and rim (.761 inches, 19.3mm).
The rim is .50 inches (1.3mm) thick. An unfired case measures 2.270 inches. It features a centerfire primer. The 20-gauge shotgun is traditionally used for small game or as a training shotgun for beginners and novices.
The smaller gauge is preferable for small animals, such as birds, because the pellets do less damage to animal flesh. Rabbits, squirrels and other rodents are also suitable targets. The lesser recoil of a 20-guage shotgun is why it is preferable for beginners or those planning to do extending shooting.
It also make the gun suitable for younger (and elderly, for that matter) shooters who may have trouble controlling recoil in a larger shotgun. It is worth noting that recis often a function of how heavy the gun is itself as it is about caliber. All models are different, so check the listing you plan to bid on carefully
.
Thanks for shopping for a 20-Gauge Shotgun with GunBroker.com
We hope you've found this information on 20-gauge shotguns helpful and informative. If you had trouble finding the exact 20-gauge shotgun you're looking for, be sure to check back again soon. Auctions and listings are always being added and updated. Thanks for choosing HOMETOWNGUNMART