fn 5.7×28 product overview
Speer Gold Dot Ammunition is the first fn 5.7×28 round specifically designed for self-defense. Like all Gold Dot ammunition, the bullet is built using Speer's exclusive Uni-Cor method. The jacket is bonded to the core one atom at a time, virtually eliminating core-jacket separation and creating a projectile that's accurate, tough and consistent through all common barriers. High-quality brass, reliable primers and specially formulated propellant produce optimal feeding and ballistics in most fn 5.7×28 firearms including the FN handgun. Not for use in the rotating feed design of the FN P90 magazine. This ammunition is new production in reloadable brass cases.
fn 5.7×28
Features
First fn 5.7x28mm round designed specifically for self-defense
Consistent penetration and expansion through common barriers
Extremely uniform jacket maximizes accuracy
Gold Dot technology virtually eliminates core-jacket separation

Made In United States of America
Specifications
fn 5.7×28
Product Information
| | |
| --- | --- |
| Cartridge | |
| Grain Weight | |
| Quantity | |
| Muzzle Velocity | |
| Muzzle Energy | |
| Bullet Style | Bonded Jacketed Soft Point |
| Bullet Brand And Model | |
| Lead Free | |
| Case Type | |
| Primer | |
| Corrosive | |
| Reloadable | |
| Country of Origin | |
Delivery Information
| | |
| --- | --- |
| | 0.750 Pounds |
| | Yes |
Was The Information On This Page Helpful?
Community Q&A
Need More Information?
Speer Gold Dot Ammunition 5.7x28mm FN 40 Grain Gold Dot Bonded Soft Point ammo is a professional grade round for self-defense and duty use. It features a pressure-formed lead core that's bonded to an extremely uniform jacket a single atom at a time, virtually eliminating separation on impact for more retained weight and penetration to crucial depths. The Gold Dot hollow-point design expands consistently through the full range of barriers, and ignition and cycling are guaranteed thanks to sealed primers and nickel-plated brass cases.
Speer uses only high quality components in their Speer Lawman line up of ammunition that includes this 5.7X28FN load with the 40 Grain GDSP projectile. As with all Speer Lawman products, this round is made to meet the highest standards for performance and reliability.
Speer Gold Dot Ammunition 5.7x28mm FN 40 Grain Gold Dot Bonded Soft Point ammo counts as one of the best rounds on the market today due to its quality components. This particular load was designed with personal protection in mind, but it has quickly become popular among recreational shooters who like to use inexpensive ammunition for practice purposes.
This ammunition is also very easy on firearm internals because it uses Speer Uni-Cor technology which fuses the bullet jacket to the lead core creating a bond that cannot be broken during expansion or penetration. The results are less fouling in your firearm barrel and increased accuracy every time you shoot!
This product consists of a Boxer-primed, Nickel plated brass case that is topped with a JHP bullet. Speer uses flash suppressed powder so that your vision will not be compromised if you need to engage a threat in low light.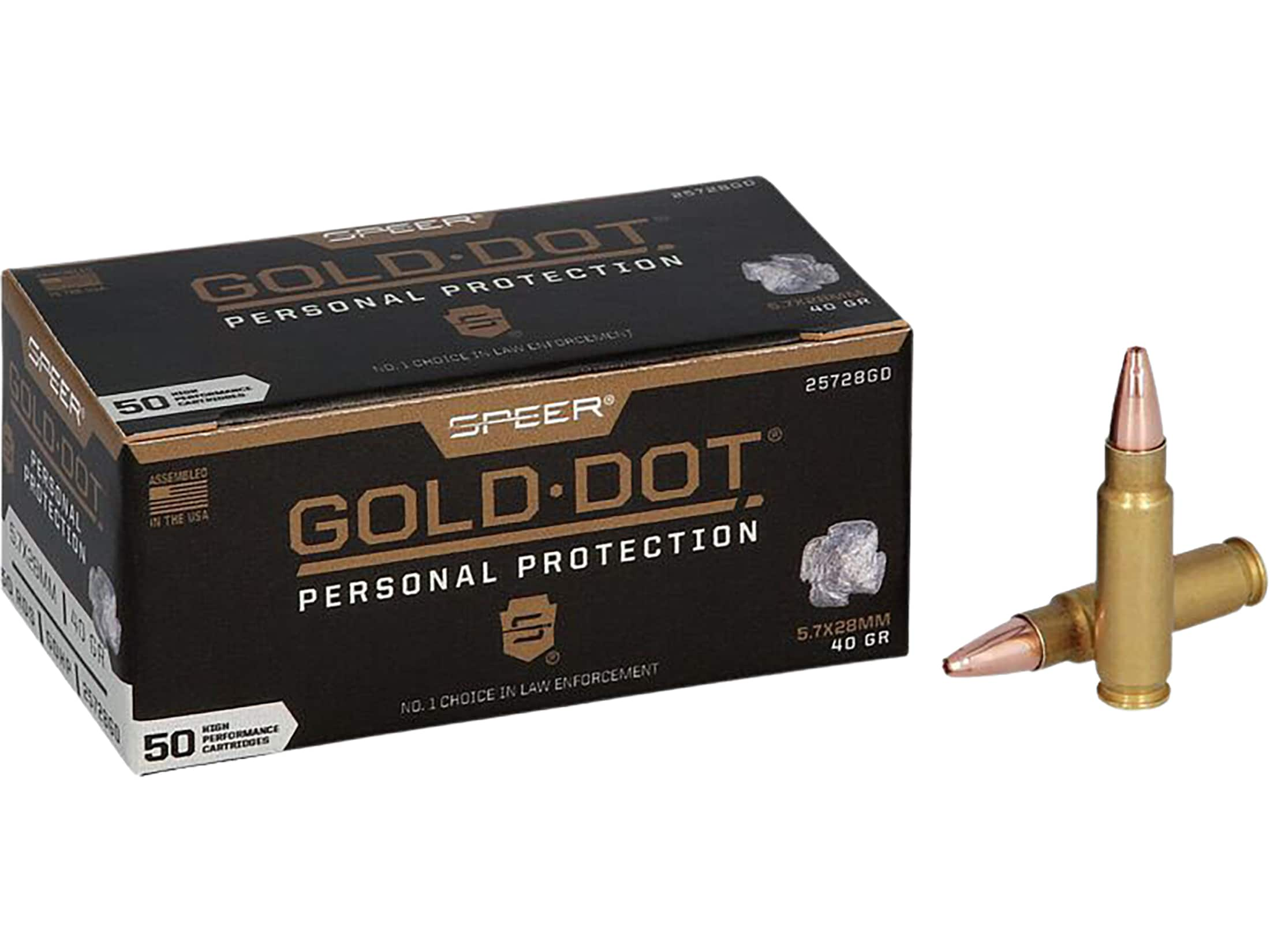 People also order
Product #: 632590
Manufacturer #: 25728GD (50)
UPC #: 604544662375