20 Gauge Sabot Slugs DETAILS & SPECS
Features and Benefits
Spiral nose cuts and proprietary bonding technology control expansion from 5 to 200 yards
Designed for use in fully rifled barrels
1,850 fps velocity
5-round box
260-grain slug weight
Power Port™ Tip delivers accuracy
Over 95% weight retention
High-strength cartridge brass slug jacket
.58 caliber
20 gauge
2-3/4″ shell length
Specifications
Gauge/bore: 20
Number of rounds: 5
Shell length (in.): 2-3/4
Species: Deer
Shot size: Sabot
Ounce shot: 260-grain
What's in the Box
Remington Premier AccuTip 20 Gauge Sabot Slugs
Important Product and Safety Information
You must be 18 or older to purchase Rifle or Shotgun Ammunition and 21 or older to purchase Handgun Ammunition. In ordering this product, you certify that you are of legal age and satisfy your jurisdiction's legal requirements to purchase this product.
For safety reasons, we do not accept returns on ammunition. Always make sure you use the correct ammunition for your specific firearm.
The sale or shipment of this product to residents of certain jurisdictions is prohibited. Check your local laws before ordering this product. Check your local laws for any other regulations.
We recommend the use of protective eyewear whenever using or near the use of this item.
20 Gauge Sabot Slugs Product Overview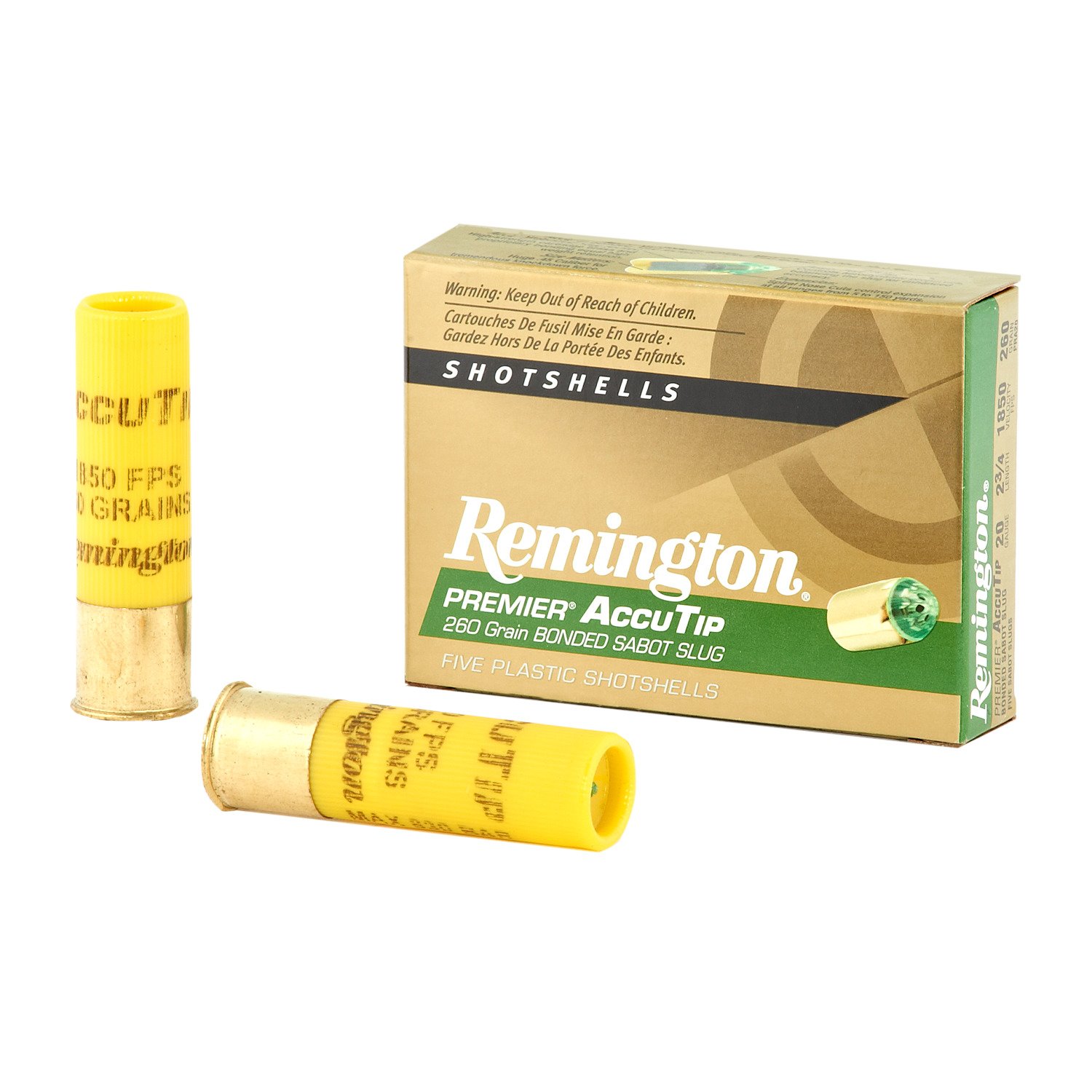 MORE ACCURATE. MORE LETHAL, AND IT'S ALL ABOUT THE TIP.
It doesn't just look intimidating, it's flattening whitetails and competitors in the tipped-slug market with devastating ferocity. Guided by our new Power Port™ Tip, AccuTip  20 gauge Sabot Slugs delivers a degree of accuracy and terminal performance unmatched by any other we tested.
This masterpiece of aerodynamics consistently prints tiny 100-yard groups and transfers tremendous knockdown force to the farthest reaches of shotgun range. It's the largest tipped slug you'll find anywhere. In field testing, these huge .58-caliber slugs (12 Gauge) and flat-shooting .45-caliber slugs (20 Gauge) produced gaping wound channels and crumpled every deer they touched with a single shot. From 5 to 200 yards, it yields perfect mushrooms and over 95% weight retention thanks to its spiral nose cuts and high-strength cartridge brass jacket. Designed for rifled barrels only.
Available in 2¾" or 3″ 12-gauge and 20-gauge versions. for more info Remington Premier AccuTip 20 Gauge Sabot Slugs
Specs
| | |
| --- | --- |
| Gauge | 20 Gauge |
| Bullet Weight | 260 |
| Muzzle Velocity | 1850 |
| Bullet Style | Sabot Slug |
| Type | Lead |
| Shotshell Length | 2-3/4in. / 70mm |
| Ballistic Coefficient | .144 |
| Package Quantity | 5 |
| Usage | Big Game |
Winchester ammunition in stock 2022
Winchester ammunition are in stock at Hometowngunmart very affordable prices check out the products below
https://hometowngunmart.com/product/270-winchester-ammo-500-rounds/
https://hometowngunmart.com/product/new-ftx-444-marlin/
https://hometowngunmart.com/product/5-7-x-28mm/
https://hometowngunmart.com/product/fn-5-7-x-28-speer-ammo/